This month we take a look back at our creative journey with Campbell's Brewery, from initial ideas to a coherent brand across all platforms.
Born in the Borders
In December 2016, Murray Campbell from the Scottish border town of Peebles, had a dream to start his own Brewery. In as little as three months, this dream had become a reality, and Campbell's Brewery was established and producing beer. 18 Months on, with a dedicated team of experts, Campbell's is now producing four different ales and a craft lager, which have the approval of former Scotland rugby stars Craig Chalmers and Gary Armstrong.
So where does Riley & Thomas Creative come in? We were approached by Murray in early 2017, after he stumbled across our work when looking for inspiration to brand his own brewery. He loved the website and beer bottle designs we had created for Goffs Brewery, and wanted us to help him make his dream a success.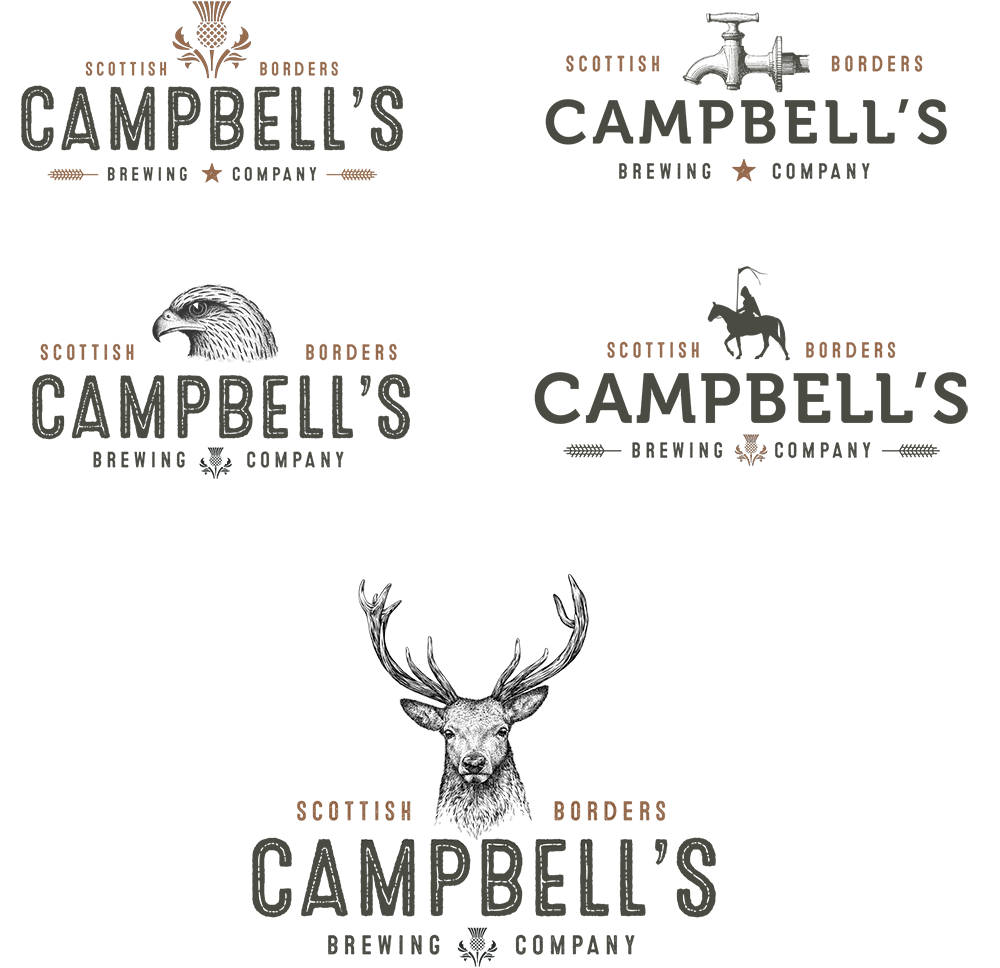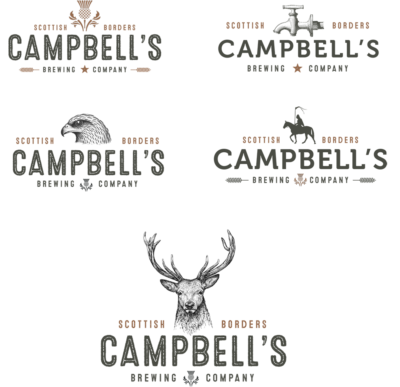 The Design Process
To start the design process off, in the studio we created a brainstorm sheet. This sheet listed everything we thought about when we thought of a Scotland, Peebles and Beer of course. This brainstorm gave us strong foundations to build on and gave us a clear direction in which to go. We loved the picturesque landscape and history of the Scottish border towns, and felt this would be a strong design route when creating the brand.
Research
We began researching Scotlands deep history and in particular the ridings of the border. The common ridings can be traced back to the 13th and 14th centuries when the border lands were in constant upheaval during the long wars with England. In such lawless times, townspeople would ride their boundaries, to protect their common lands and prevent encroachment by neighbouring landlords. Long after they ceased to be essential, the ridings continued in commemoration of local legend, history and tradition. We felt this was a story of great passion which would incorporate well with the strong Scottish brand we were trying to create
Logo Design
With the history of the ridings etched in our minds, we began to create a logo. The choice of knight on horseback was immediate and we built the rest of the logo around this strong patriotic image. We also wanted to incorporate the national flower of Scotland, the thistle, into the design. As the thistle was seen as a symbol of defence in the 15th century we though this married well with the connotations of the ridings.
However, when it came to the name of the brewery, Murray was unsure what he wanted to call it. After discussing a few ideas with Murray Campbell, we thought the strongest and most fitting name was to simply call it Campbell's Brewery. After all, Murray was the man with the great idea and the drive to put it into action, so we felt he should be proud of what he had achieved. Not only that, but Campbell is a strong typically Scottish name of Gaelic origin.
Once we had the name, we had a play around with various fonts, and in the end we opted for a modern slab font. We chose this type of font as it represents a strong, solid, modern brand. Many other brands such as Volvo, Sony and Honda use fonts of this type and are extremely successful in making an impact. However, we chose a simple condensed sans serif font for the wording of 'Scottish Borders' and 'Brewery Limited', in order to not distract from 'Campbell's' and to keep the logo clean.
Applying the Brand
When we pitched the ideas we had to Murray he loved it! With the look and feel of the brand accomplished, it was now time to apply this across the website, beer bottles, pump clips and more.  The creation of the website was wonderfully straightforward as we had worked closely with Murray to understand the vision he had for Campbell's Brewery. We then went through numerous rounds of tweaking the website with Murray in order to make sure the site was perfectly designed. The connection to the Scottish borders is subtly continued throughout the site and adds consistency to the brand. We did this by including beautiful imagery of the Scottish scenery, with the purple glow of this thistle, as well as inclusions of other native animals and the Scottish rugby team. Going for a more image heavy approach has really helped to bring the site to life and give potential visitors a real feel for the passion that goes into the product.
Murrays brewing dream began with a lovely blonde ale, brewed with German bittering hops and finished with delicious American hops creating an absolutely delicious pint. With a great product in production, we wanted to create a strong name that would drive this product to success, and Gunner was born. As well as being a strong name that made an impact, we also chose this name for its connotations with the strength of the Scottish Gunners, the 19th Regiment Royal Artillery. The first batches of Gunner Blonde Ale were met with enthusiasm and praise from beer drinkers around the country, and a bottled version of the product became in demand. When Murray contacted us with news of the bottled Gunner, we were delighted that it had been such a success, and efficiently created a sleek bottle design that kept with the brand.
The success of Gunner Blonde Ale led to a new ale being developed, a slightly darker and far hoppier golden ale. However things did not stop there, and shortly after a pale ale and Scottish porter were in production also. We branded this family of beers, in a similar style, all with strong names and Scottish connotations, in order to create a coherent brand that carried and added to the success of the Campbell's Brewery brand.
Welcoming the new craft lager
Our latest project with Campbell's Brewery has been the creation of their first craft lager. Murray came to us with the brief to create a craft lager brand with a continental feel, to appeal to a younger audience that the traditional ale market. We were excited by this brief, as it allowed us to take the brand in a new direction.
Our design process began with coming up with a name for this new product. We wanted the name to appeal to a younger audience as well as having a European feel to it. The name Shaygër was chosen as it derived from the name Che Guevara, who was a major figure in the cuban revolution, and his stylised visage has become a ubiquitous countercultural symbol of rebellion and global insignia in popular culture. We then added the umlaut accent to the letter E, to achieve a more European feel.
When it came to the packaging design, we opted for a bright blue colour palette to further appeal to our younger audience, contrasting with a darker blue to help increase legibility on the pump graphic at the bar. The bright blue checkered graphic element for the header adds a heraldic feel, and the different length dashed lines around the edge create a dial to represent the craft of fine tuning the taste.
Creating such a strong brand has been a joy for us here at Riley & Thomas, even more so as Murray is thrilled with the final result and has received a lot of compliments on the very smart looking website!
Has this branding case study interested you? If your business's own branding has seen better days or have a new business you are about to launch, Riley & Thomas Creative are happy to help. Whether it's giving your current branding a makeover to achieve business growth like Four Corners Handmade or getting your branding off to a flying start like Campbell's Brewery, we love discussing new projects over a cup of freshly ground coffee and a wedge of cake. Call us on 01386 842936 to see what we can do for your business.