Digital Marketing Experts Cotswolds: Lessons The Pandemic Taught Us
DIGITAL MARKETING EXPERTS COTSWOLDS
From building a loyal customer base to gaining a renewed appreciation of consumer trends, we have explored the top 4 lessons the pandemic has taught us when it comes to your digital marketing strategy. Throughout the last year, we have been forced to react to our consumers and look into how we can better offer our services and products to them easily. Many businesses who have neglected their digital marketing effort previous to the pandemic, have quickly learnt how vital they are when looking to communicate with your customers.
Building a customer base takes time, but building a loyal customer base takes even more time, care & attention to detail.
Businesses that have spent years building up their community of customer through data collection have been seeing the benefits over the last 9 months when they have not been able to rely on physical stores. What once was an investment in spending time on customer relationships, has now resulted in a trusting relationship with their customer in which has seen a higher increase in customer retention.
It is important to remember that building a customer base and strong relationships online takes time. Therefore during the pandemic, those with a strong customer base continued to see a consistent revenue stream over the months.
If your business has not prioritised digital marketing and the importance of customer relationships then you have no one to communicate with. This gives you a poor chance at being competitive. Smaller businesses tried desperately to engage smaller campaigns with new customers in order to maintain business. Off the cuff smaller campaigns do not do is focus on engaging with customers and relationship building. Instead, they focus on the quicker smaller influx of sales that is not maintainable and doesn't prioritise customer loyalty.
It is more than clear that digital marketing should not be taken for granted and although it is a gradual process, the benefits are invaluable to your business.
A seamlessly executed digital strategy starts with the website… that is also mobile-friendly!
A fully functioning website is the most important part of your digital strategy. Any other marketing efforts from email marketing to social media, always come back to the website. A website allows you to reach as many people as possible, using effective search engine optimisation (SEO).
The pandemic quickly made business owners think about the ability to sell online through e-commerce. If you look at your website and are unhappy with how it portrays your business then it is more than likely that any potential customer will feel the same. From this they may choose not to use your services or buy your products; Start with a website that you are proud of.
Gaining a renewed appreciation consumer trends
Customers are the reason that we all choose to do what we do when it comes to our digital marketing. If you're unable to adapt to your consumers wants/needs then they will find it elsewhere. The pandemic has caused consumers to create an unthought-of demand for many products. The ability to react quickly has helped many businesses perform better during this difficult year.
A strategy is essential but being able to react effectively is also important. Real-time marketing has become more popular amongst businesses and offering the unexpected before you even knew you wanted or needed it.
Your business does not need to be on every digital platform.
Choose what is best for your business and where your customers are.
Every business needs to be able to justify why it is choosing to promote on each individual channel. Businesses need to look at where their target audience engages and where they spend the most time. If a digital platform is not generating results for your business, whether that is financially or through engagement then it is more than likely not the right platform for your product/service.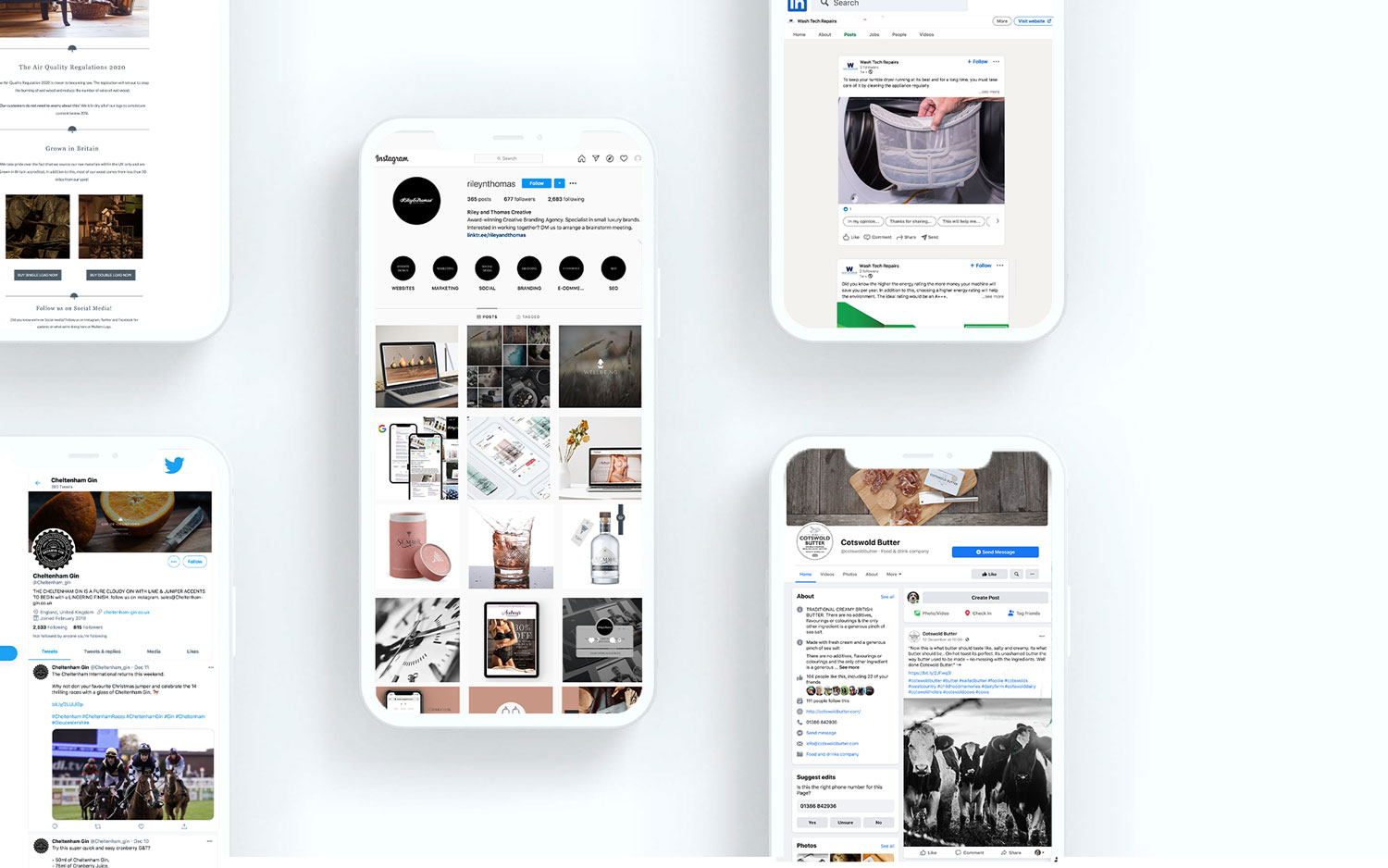 As soon as the pandemic hit and a lockdown was announced, those who had to shut their shops, panicked and automatically turned to advertise on every social media platform. Managing social media platforms is extremely time-consuming and involves a strategy. To effectively advertise across social media channels, you must understand how you can optimise each channel to benefit your business.
The pandemic taught us to focus on the relevant channels to your business. This will allow for a better return on investment and will help you advertise your services on an already limited marketing budget. Following this, businesses have now realised just how important social media marketing is and that it is not to be ignored.
Looking into the new year, businesses must be encouraged by digital marketing and embrace the opportunities it brings. It is simply a  fundamental part of an overall marketing strategy and should be looked at in fine detail. As digital marketing experts in The Cotswolds, we can help transform your digital marketing to suit your consumer's needs.
Share This Story, Choose Your Platform!