I am trying to run my business on an HP Chromebook 14, and so far with only a couple of glitches, it is going well. I love the battery life, the snazzy design, and the low cost, and figuring out how to do almost every task I require is actually a joy.
I have an ageing windows 7 laptop as a standby for any other jobs the Chromebook cannot handle, which has been zero so far, and my business partner has a massive desktop Mac for the designing side of the business.
The point of this post is to introduce you to an amazing app. that I came across this morning, that I love already – Mighty Text. It allows you to write and receive SMS texts from my Chromebook, by connecting through Google apps. to my phone.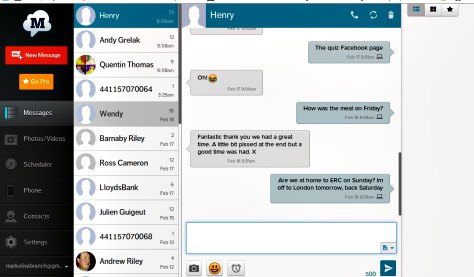 I have the app installed on my Android powered Nexus 5, and the app installed as an extension of my Chromebook browser, and now rather than flitting between the 2 devices to keep up with messages, I'm doing it all from a very attractive web interface.
Well done Mighty Texts. I am on the free version, by the way, and the only thing I think I'd use on the premium is the ability to schedule texts in advance, and possibly send mass SMS to up to 25 people at once, but so far the free version is awesome.