Client: Audrey's of Broadway
LUXURY BOUTIQUE LINGERIE BRANDING
Luxury Lingerie Boutique.
Audrey's of Broadway is a new luxury lingerie boutique at Broadway in the heart of the Cotswolds. Our client told us she had a love of Audrey Hepburn and is a firm believer that every woman has a little bit of Audrey in them; that was how Audrey's of Broadway was born.
With a strong passion behind the story, the client wanted us to bring this to life through a multi-functional website and complemented by a marketing strategy, including social media, blogs and email marketing.
Our client came to us in need of a high-end luxury lingerie brand including e-commerce website. The website needed to be suitable for both desktop and mobile with the users experience at the forefront of the design. We created the Audrey's brand including brand guidelines to help clarify the experience and personality behind the brand, their core values and their tone of voice across all communications. In addition to this, we created the client's website and optimised this for SEO purposes. We love working alongside Audrey's of Broadway and continue to develop the brand, maintain the website and produce all the marketing material.
What we did.
Logo Design
Brand identity
Marketing collateral
WordPress website design
What we do.
Web hosting
SEO
Digital marketing
Mailchimp email campaigns
Social media
Blog content and design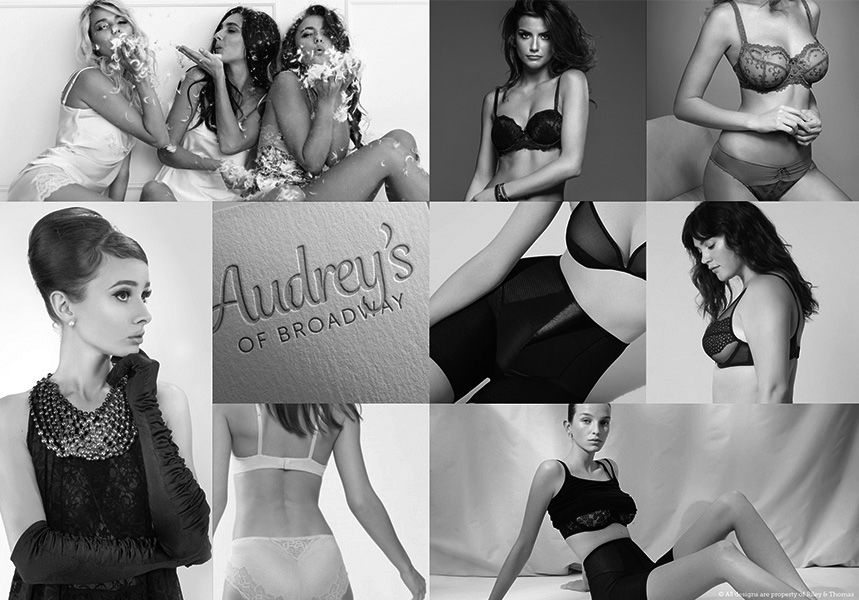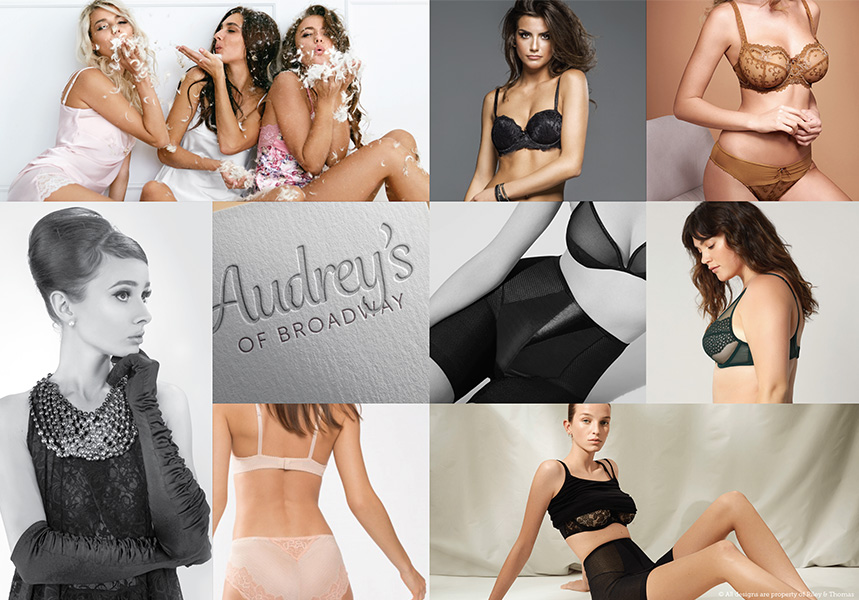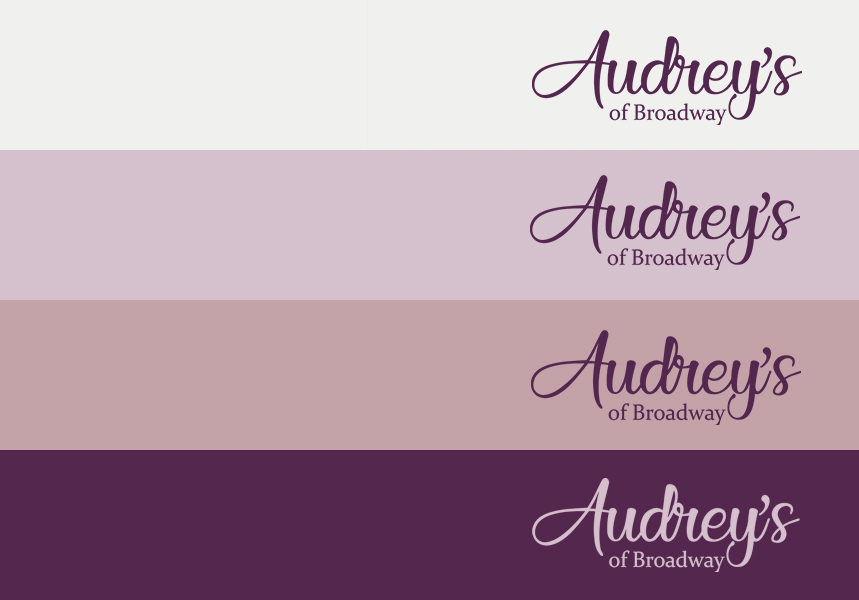 The Journey
After an extensive review of the market, we went to work to create a proposal. It can be difficult for a business to visualise how their website might look, how certain fonts can determine the feeling of their brand, and how their organisation will look sitting alongside their competitors.
By creating inspiring mood boards, website mock-ups, a range of colour palettes and logo variations we help the client to discover what they love, but also what they really don't love.
After fully understanding the client brief and the personal aspect of the business we were able to create a proposal.  The client wanted the customer to feel confident and this had to be portrayed through branding, messaging and design across all forms of communication.
We used our retail experience to guide the client through the online customer journey, explaining the importance of an elegant yet fully functional website.
Through creating visual mock ups of website design it was clear that it had to attract both female customers who were buying for themselves as well as male customers, buying for their partners.
Luxury Logo Design
Your logo design is the one thing that your customers will see before anything else. It's often the first point of contact for prospective clients or customers.
At our initial brainstorming session, it was important for the client to have something that was as elegant and luxurious as the lingerie they sold. Font is a vital aspect to the feel of the logo.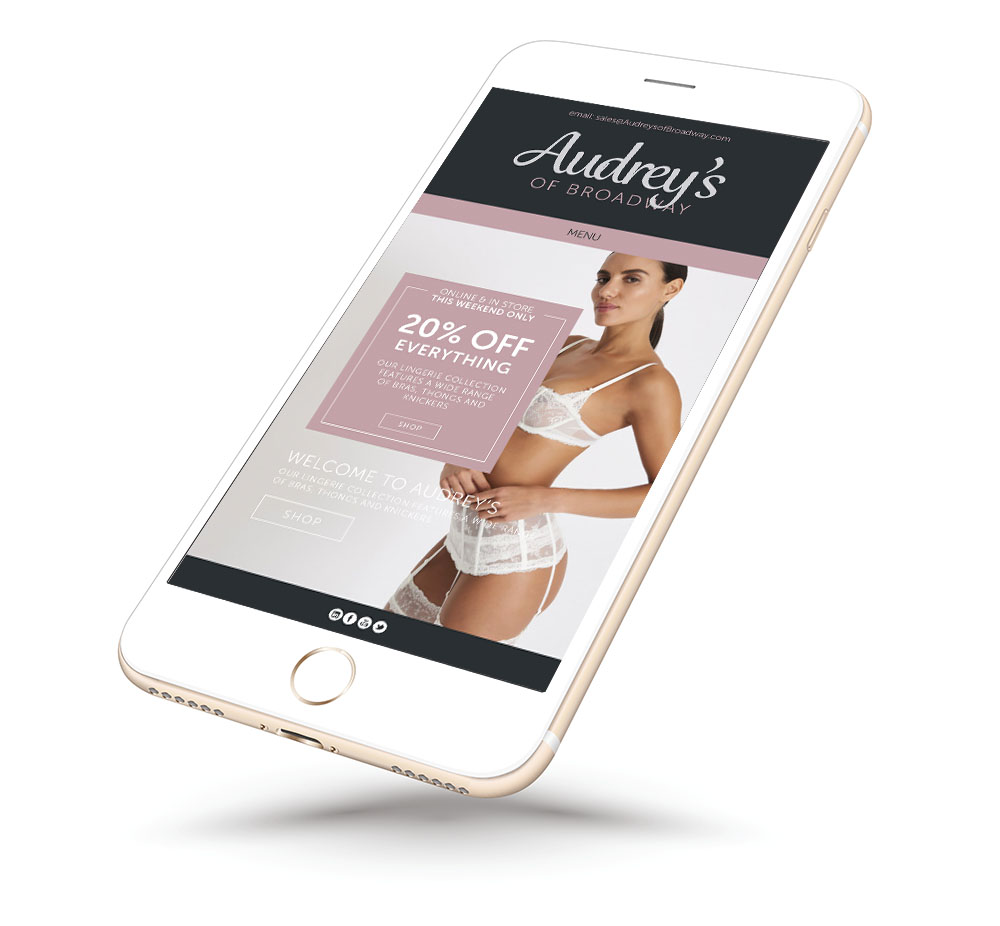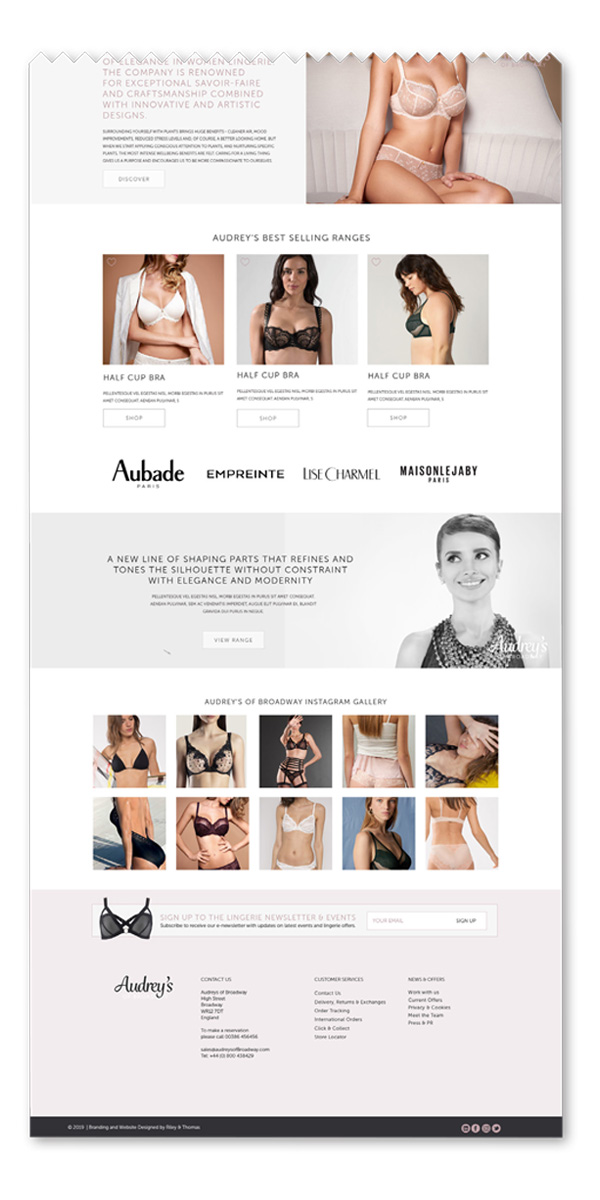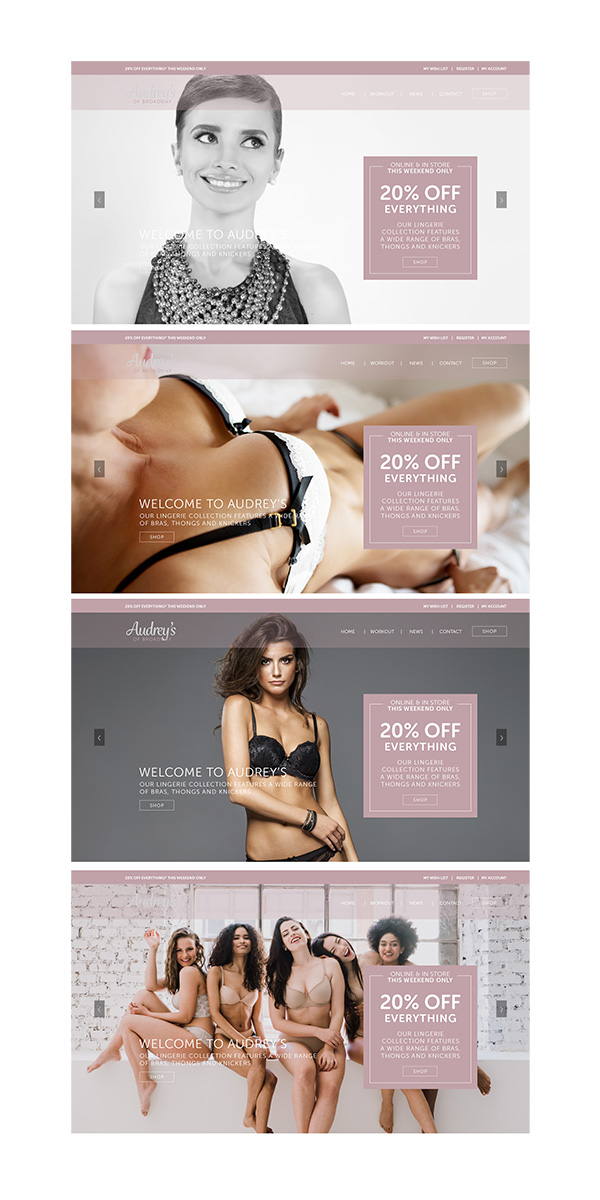 Luxury Lingerie Brand Development
Once the client feeds back on what they like most – our graphic designers start playing with other elements, from icons to colours, to see where the logo can be taken.
The client loved the elegance and simplicity of the logo, so from there we began to create a colour palette in which to use.
Audrey's of Broadway stock multiple luxury lingerie brands and this meant that the logo had to stand against them.
Brand Guidelines
Audrey's of Broadway luxury lingerie brand guidelines help to clarify the experience and personality behind the brand, their core values and their tone of voice across all communications. These ensure a cohesive brand identity can be maintained across all mediums. When the e-commerce website is live, the brand guidelines will also form a basis to the customer experience beyond the website to their packaging.
The Results
Audrey's of Broadway was delighted with how we had transformed her vision into a working reality. She instantly felt a stronger connection with brand, which only enhanced her passion for her own business. We now work closely with Audrey's of Broadway in running their marketing and social media communications as well as the development of e-commerce.