Client: Bristol Twenty Coffee
LUXURY SUSTAINABLE BRANDING
Client: Bristol Twenty Coffee Co
Experienced, Luxury Coffee and Tea Supplier.
Bristol Twenty Tea & Coffee Co have pooled a collective total of 40 years experience in the coffee and catering trades to provide a one stop solution to your tea and coffee needs. They supply a large range of commercial coffees, as well as a unique blend of small batch roasted espressos and unusual single estate coffees. Their philosophy is simple: to help you serve the very best range of hot drinks possible in the most sustainable way we can.
This client came to us in 2014, searching for a full package. They wanted a new brand identity, a new website with e-commerce as well as new imagery. From their new brand identity and website, Bristol Twenty then appointed us to grow the business through weekly online marketing activity.
The aim for the client was to raise brand awareness, create demand generation, increase visitors to site, increase customer sales and encourage browsers to purchase from Bristol Twenty direct and through the website. Furthermore to support the strategy of B20 through marketing and PR activity, primarily web and on-line
What we did.
WordPress website design
E-commerce
Web hosting
SEO
Logo design
Brand identity
What we do.
Marketing collateral
Packaging design
Web hosting
SEO
Digital marketing
Mailchimp email campaigns
Blog content and design
Luxury Brand Logo
There has been a port in Bristol since Roman times providing a vital connection between England and the world; this proud shipping tradition still continues to this day. At Bristol Twenty Tea & Coffee Co they have pooled a collective total of 60 years experience in sourcing the finest green coffee beans from around the globe, which are roasted daily for maximum freshness.
When the company was started they new that what defined them was quality and responsibility. It was clear that this combined with the history behind the coffee industry was to make up the new creative visual behind the logo.
We were able to review their current logo and its impact within the market. We then proposed opportunities and improvements based on our brainstorming session to suggest how we could develop the brand. The logo now has a history and is authentic in the story behind the company and its values.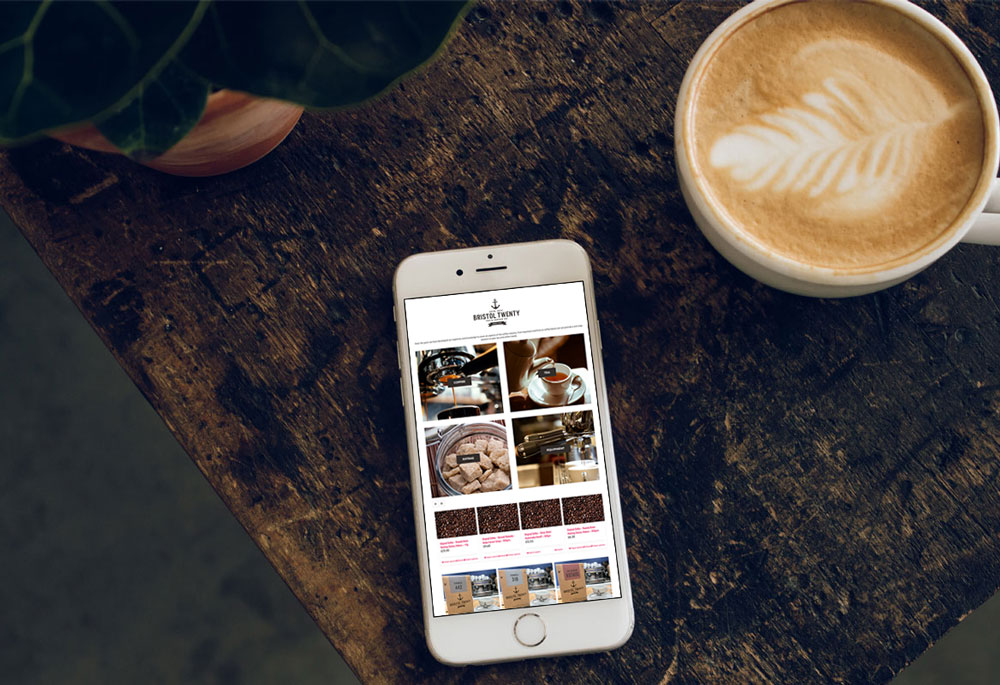 Luxury Brand Development
We like to get to know you and your business, tell you more about how & why we work, and share our thoughts about where we can take you. This is essential in developing your brand. The rich history behind the brand and the products is seen online. Creating fresh content that represented this was going to be a vital aspect to consumers getting behind the brand.
The thought process behind developing the Bristol Twenty Coffee Co. brand was to encourage customer to buy products and directly support marketing activities. We wanted to consumers to buy into the brand and it's values, so that they bought the products. Brand representation across the website, marketing activities and packaging design needed to say, "This is what I am. This is why I exist. If you agree, if you like me, you can buy me, support me, and recommend me to your friends."
E-commerce
Customer experience is more than just the digital experience. It's the sum of all the customer touch points and factors that influence them – the speed of delivery, payment methods, returns/refunds, product information, contact policies and so on.
In the hospitality industry, time means money, so an e-commerce system must meet and exceed expectations in ease and speed of use. Bristol Twenty Coffee Co. needed to be able to adapt their offerings online quickly with newly roasted blends, packaged in multiple sizes being added to the website. We can now easily monitor this system to make it as efficient as possible for our client and their customers.
Brand Refresh
Over the last 6 years of working with Bristol Twenty we have done a brand refresh. We are constantly communicating with our clients and evaluating how they are evolving as a business as well as their industry. It is important for us to evaluate this in order for all marketing activities to be effective to new and existing customers.  We did a full refresh of the website including imagery and copy. Most recently it has involved a full redesign of their packaging in order for it to be more sustainable which was in response to adapting to the competitive market place.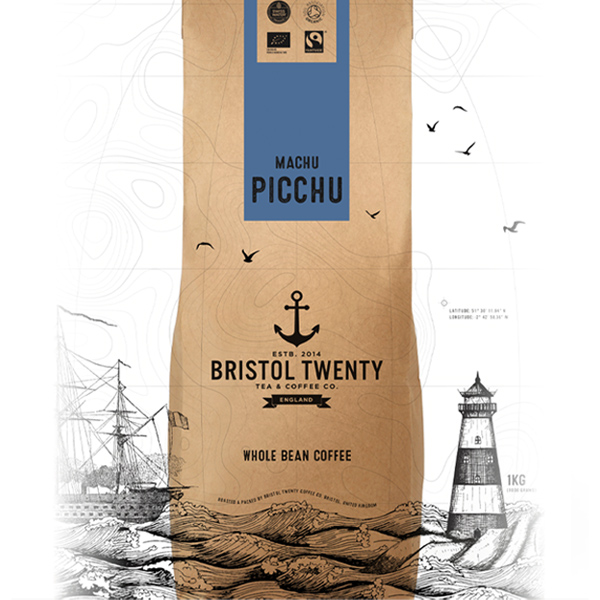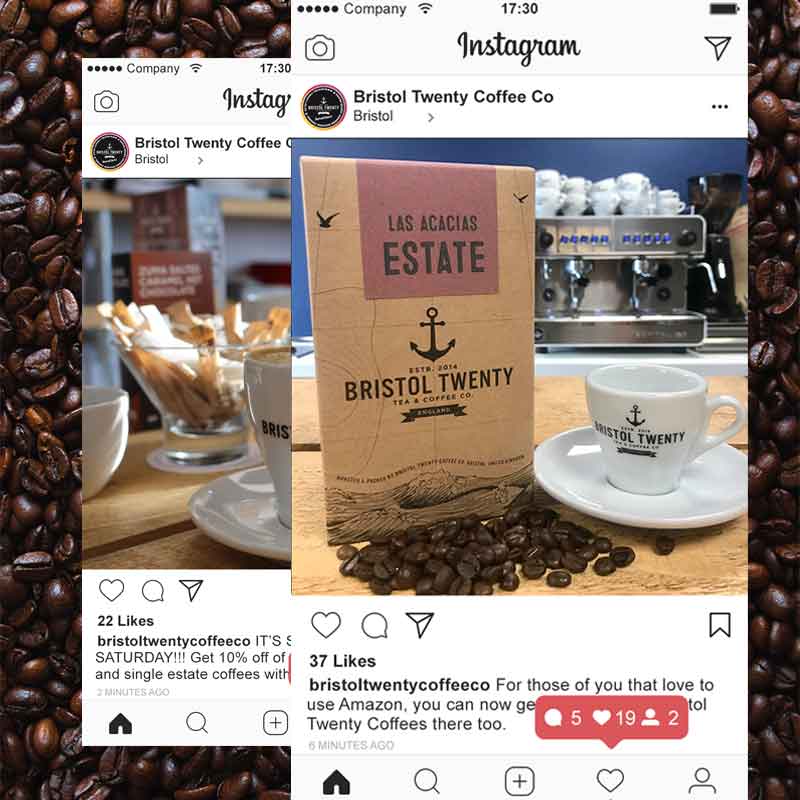 Brand Guidelines
The Bristol Twenty Coffee Co. brand guidelines help to clarify the visual essence of the brand, across all communications. Brand guidelines are essential to a company such as Bristol Twenty.
With an extensive range of their own product being sold, it is important that each of these products stands alone but is cohesive with the brand identity. A cohesive brand identity can be maintained across all mediums will increase trust from the customer.
Client Testimonial
"Riley & Thomas have done an amazing job of helping me re brand the new division of our company and set up my e-commerce website. I was lost when they were recommended to me, but they guided me through the process perfectly and I ended up with exactly what I was looking for. We've seen a huge growth in our market standing since working with them, and more importantly our brand is now being recognised nationally as the quality brand that we have worked so hard to achieve. We love the ongoing relationship and commitment we have from Quentin & Mark, and look forward to a productive future together".
Rory Ireland, CEO Bristol Twenty Coffee Co.