Client: Castello Di Montalero
Luxury, Authentic, Italian Cooking Experiences.
Castello Di Montalero offer unique Italian cookery experiences. Learn unique Italian cookery skills from fantastic chefs, visit local markets, taste local wine and meet producers of some of the most fabulous produce around and taste what they have to offer.
What we did.
Logo design
Brand identity
WordPress website design
Responsive online booking system
Marketing collateral
What we do.
Web hosting
SEO
The Journey
This client came to us in search of a new brand identity and website. With a strong heritage and story to tell, they had nothing visually to show potential customers. The client had a minimal website which didn't give them full functionality for what they needed.
The client was paying for Google Ads which was gaining traffic to the website, but not converting the traffic into bookings. They wanted a better online booking system that was not complicated, making it quicker for consumers to book online.
After reviewing their current offering, we created a proposal of their new brand identity that kept their heritage at the forefront of the brand. We were able to show them the new online customer experience with fresh content and imagery to match the story behind the brand.
Luxury Brand Logo
When we had the initial brainstorming meeting with the client it was important for us to find out what it is that makes their cookery experience different from the competition and how they believe they stand out. We had to ask ourselves how we could make their new brand identity recognisable and engage with clients so they could trust the brand.
The region in which the client now lives, in a romantic castle of medieval origins – Castello di Montalero. This is also home to the cookery experience and is used for customer accommodation. It felt right for this to be the new brand identity; it was quite simply the history behind their new brand identity.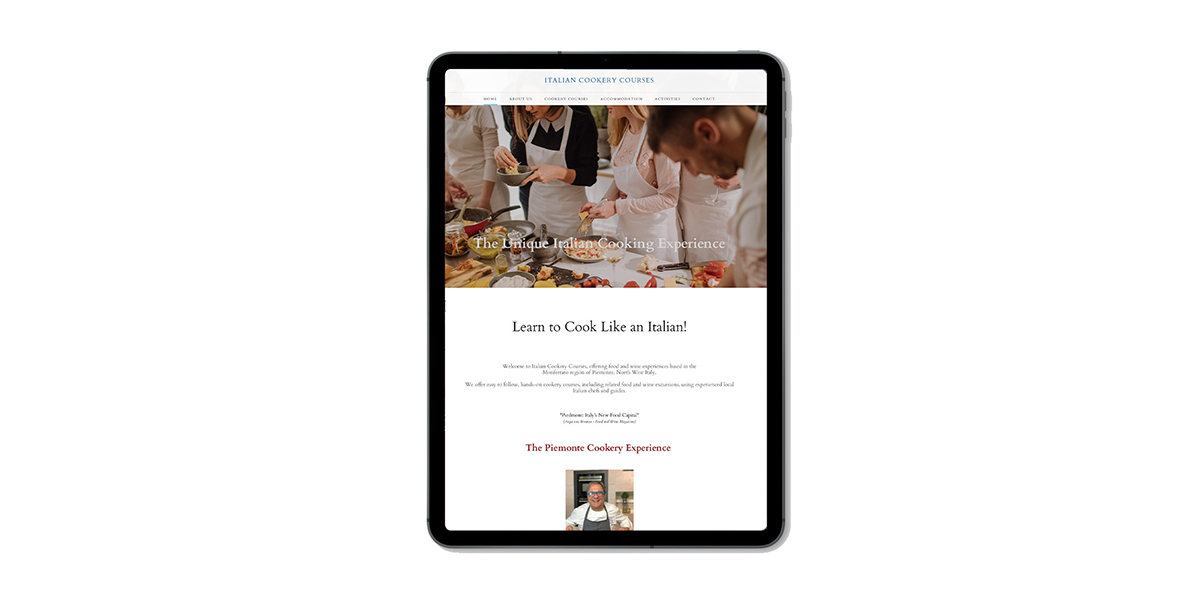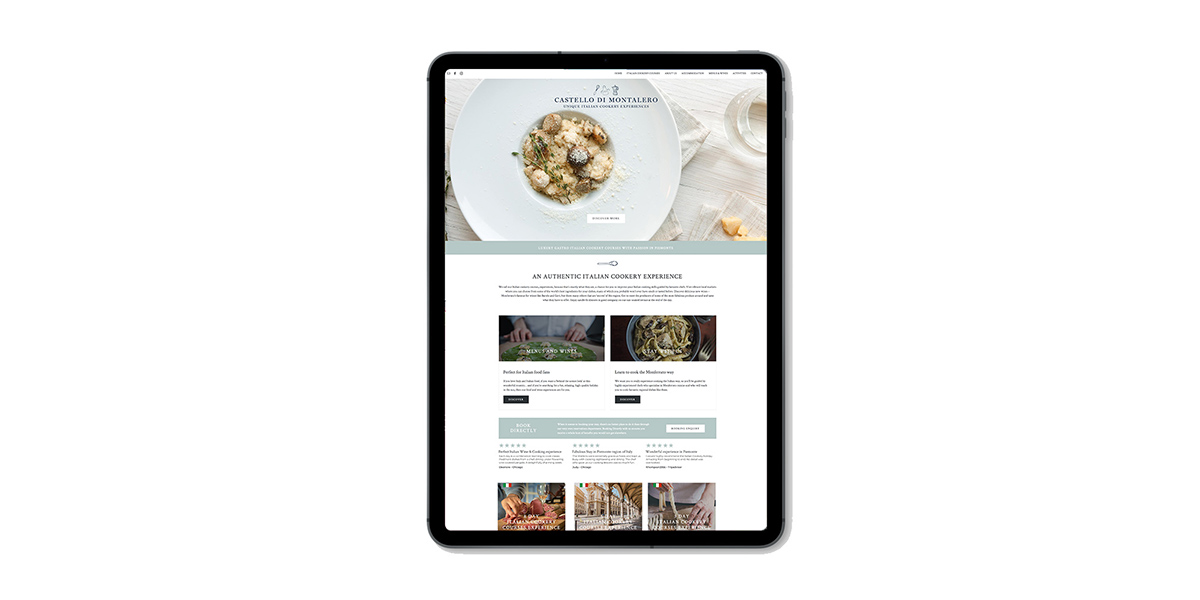 Luxury Experience Brand Development
For this client, as with most we had to make sure that all the links worked for the new online booking system, making it easy and hassle free to use. This way it will then capture leads and help drive revenue for the business, which was one of the main concerns the client had when they approached us.
Once the client fed back on what they loved we were able to build on this in more detail throughout all aspects of the website. Your customers are digitally savvy and the web is usually their first port of call for research, price comparison, reviews and often, a final decision. Your online brand has to be able to engage and grow loyalty from your customers.
For a client like, Castello Di Montalero who are selling an experience, the imagery in the website will help turn traffic into conversions. The first impression the customer makes of the course comes from their online experience. Using the clients new brand identity to we could enhance that experience through content relevance, from tone to visual style.


Brand Guidelines
The client now had a brand identity which we complied into a set of brand guidelines they could use. These guidelines shape your company, making sure that the assets and deliverables; tone of voice, website, media and marketing material are consistent with the brand.
The Results
Once launched, it's vital that your brand and website continues to develop and grow across different media to encourage new business. We still maintain the website for the client, making sure that it is always update with new imagery and content as well as reviews.
As soon as the new site launched, Castello Di Montalero started to see an increase in conversions from their website traffic. They now have high rates of traffic onto the site with more enquiries and confirmed bookings through the new system. This simply shows how important a trustworthy and strong brand identity is to the customer experience.
When speaking with the client it was easy to be creative with this project as there was such a rich history and passion behind the company. Both Christopher and Kaarina were delighted with the new brand identity and website.