Client: Aztec Rum
Luxury Alcohol Branding.
Founded in 2019 Aztec Rum combines a passion for rum and a talent for creating brands. With a rising market for the rum in the UK, topping £1bn in 2018; This is a new product to the market place as a newly branded concept.
The Aztec Rum team bring decades of experience in branding and drinks distribution. Aztec Rum is a premium organic golden rum that is aged in bourbon barrels for 3 years, bringing a Mocha spiciness to its orange, almond and vanilla base notes
Aztec Rum will be launching in Autumn 2020 and is currently looking for investment. For more information please contact quentin@rileyandthomas.co.uk to discuss. 
What we did.
WordPress website design
Responsive web design
Logo design
Brand identity
Concept creation
What we do.
Marketing collateral
Web hosting
CMS
SEO
Digital marketing
Mailchimp email campaigns
Social media
Marketing Strategy/Plan

The Journey
After an extensive review of the market and competitor brands, we began work on branded concepts as well as visual aids to get a feel for the idea in mind. When creating a new brand, it is all about standing out. It can therefore be difficult to visualise what your potential website may look like as well as how the product will look sitting alongside their competitors on the shelf.
For Aztec Rum, we were able to create inspiring mood boards, website mock-ups, a range of colour palettes and logo variations based on the story behind the brand. We had taken part in extensive market research to see what the current environment was missing and how consumers perceived brands in the industry.
From the beginning of concept design/ideas Aztec rum has seen significant innovation and is tapping into consumer demand for discovery, new flavour profiles and products with heritage and an interesting brand story to tell.
Alcohol Brand Development
The entire concept and brand was created by the team at Riley & Thomas. This was not just a brand idea, this was a project that included, brand development, product concepts, product development, marketing concepts, strategy etc. Alcohol branding is an essential aspect when entering a new market and creating a great first impression on the consumer.
As this was a new brand, we had to review the current market place as well as investigate into opportunities in developing the idea into a brand. Your brand identity is what shapes your company. We will develop your identity and brand promise ensuring the assets and deliverables; tone of voice, website, media and marketing material are consistent with the brand.
Based on the Aztec Empire and people who lived in Mexico and Central America in the 15 century the brand reflects the drama of the golden period of civilisation where face painting, sacrifices and gold adorned the landscape. Where giant temples filled the sky rising from the rainforests. The City of Gold… The New World… a forgotten time.
The bottle design reflects Black gold, dripping face paint or blood, with a link to the gold being melted down and transported across the Gulf of Mexico and Caribbean where it was turned into Gold Coins which were fought over, lost, and still undiscovered to this day.
We wanted to create an amazing and exciting rum that evokes the history and spirit of the early Aztec period – the first known time of producing a spirit made from natural sugar cane. We wanted to create a rum without sacrifice in quality inside and outside the bottle.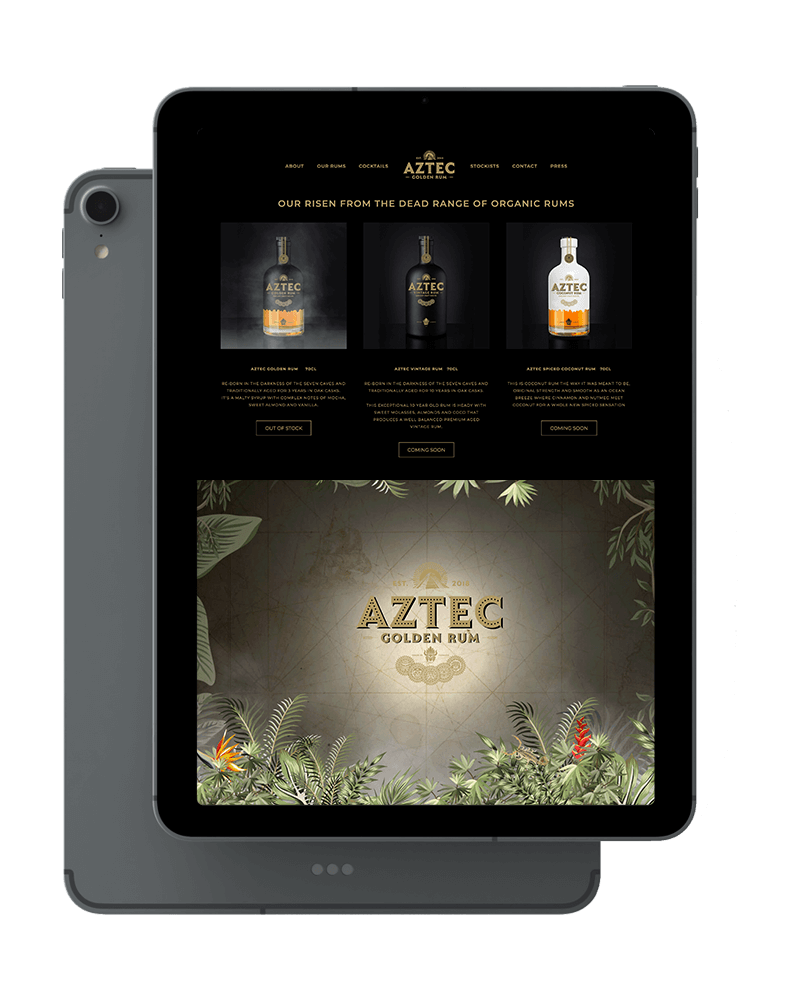 Brand Guidelines
Developing a consistent brand starts with creating brand guidelines that all aspects of the business can use throughout their communications.
For a brand to create trust with your audience, every touchpoint needs to have the same rules in place – people don't buy products or services for no reason, they make buying decisions based on an emotive connection. This emotive connection with your brand will determine their perception of the brand.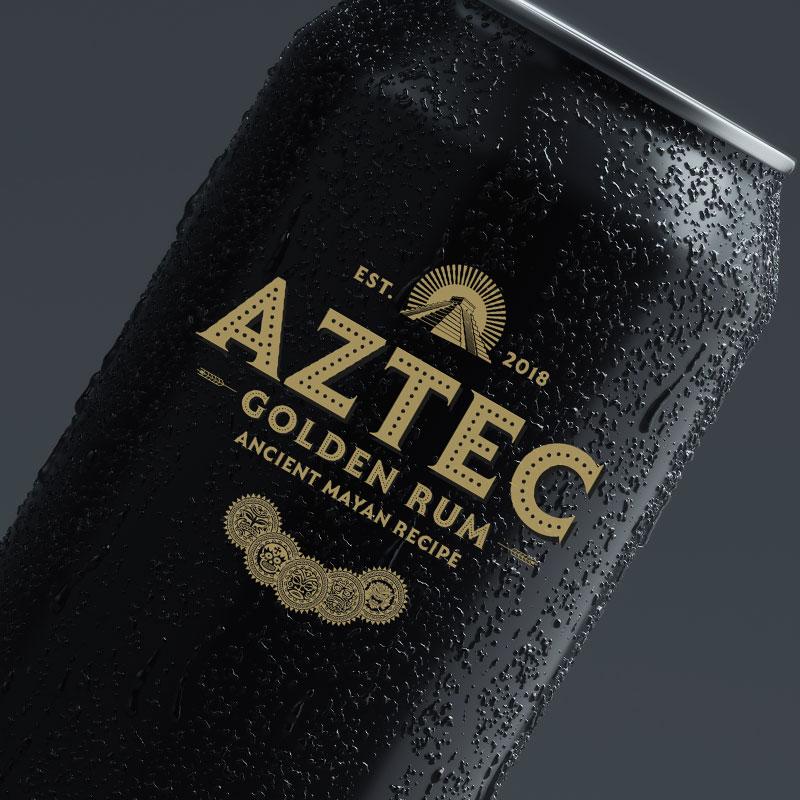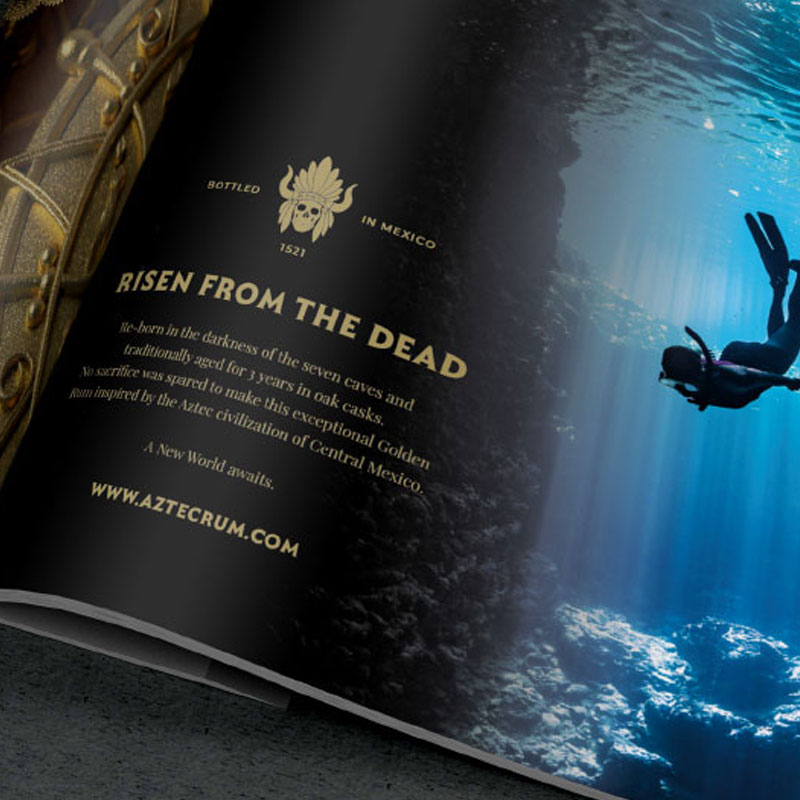 The Results
Aztec Rum has been created through extensive market research as well as using the knowledge of the alcohol drinks industry of the experienced team at Riley & Thomas. As a new product and brand to an emerging market place, the design and identity of the brand has proved to give it a USP against competitors.
We are thrilled to be launching Aztec Rum in Autumn 2020 and are now looking towards the new product development and marketing strategies for 2021. As part of the brand we run all social media platforms to increase engagement and excitement surrounding the brand. 

Looking to create or develop your Luxury brand?
Tap into 30 years' experience looking after some of the UK's most ambitious small luxury brands. We like to get to know you and your business, tell you more about how & why we work, and share our thoughts about where we can take you.
We help businesses thrive online with our range of creative services: Branding design, WordPress, e-commerce, SEO & social media presence.